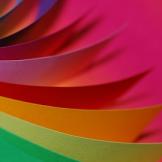 Colours
Spring is here and the world has gotten a lot more colourful. Let's explore colour with these crafts, experiments, videos and books.
Go on a colour scavenger hunt in your house or when you go outside.
Can you find something for each of these colours?
Red

Orange

Yellow

Green

Blue

Purple

Pink

Brown
Some other fun and crafty ideas...
Create a rainbow for your window with clear mac tac and tissue paper.
Use an egg carton to make a colourful flower wreath for your front door.
A colourful chalk garden can brighten up your driveway or walkway.
Decorate your house with colour diffused butterflies with this great coffee filter craft with these easy to follow instructions.
Make a Walking Rainbow with this science experiment.
Learn how a rainbow is made with these videos from SciShow Kids and PBS on YouTube.
You will need your RHPL library card for the following...
Have a peek at our colourful ebooks!
Try searching "colors" in BookFlix and Tumblebooks.
Want more? See themed days by our staff on our Daily Adventures page.