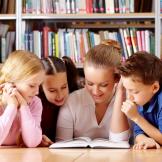 Grade 5 & 6 Book Club
Zoom programs
On the 3. and 3. Thursday each month at 19:00, and also on: 24.03.2022, 31.03.2022, but not on: 17.03.2022, 24.03.2022
SERVICE UPDATE: The March 24 date of this program has been postponed to March 31. 
Ages: Kids (Grades 5-6)
Join us each month to discuss books, play games and meet new friends! Download books for free with your RHPL card through Hoopla. 
Jan. 20: Fish Out of Water by Joanne Levy 
Feb. 17: The Last Fallen Star by Graci Kim
Mar. 31: Sheets and Delicates by Brenna Thummler
Apr. 21: Daughter of the Deep by Rick Riordan  
May 19: Sherlock Academy by F.C. Shaw  
Jun. 2: Eddie Whatever by Lois Ruby
This program will be done through Zoom, a free video conferencing software for tablets, smartphones and computers. Access instructions will be sent to those who register.
Register (Winter 2022)
Register (Spring 2022)