Richmond Hill Public Library Welcomes New Board and Board Chair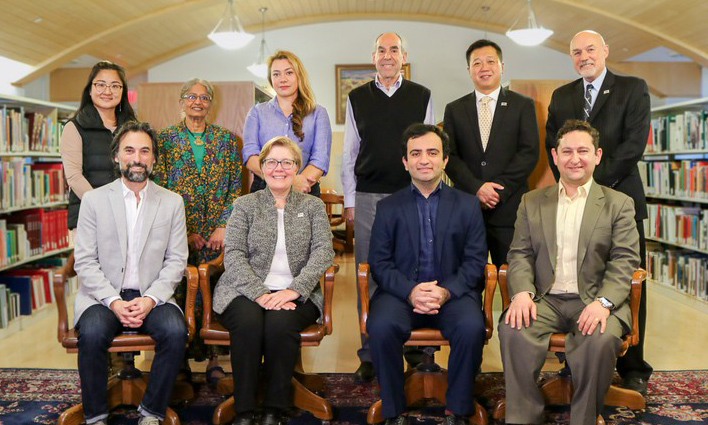 January 10, 2023 -- The new Richmond Hill Public Library Board, consisting of three City of Richmond Hill Councillors and six volunteer community members, has officially been sworn in. The Board will partner with the RHPL team to pursue the Library's vision of providing world-class experiences that help residents of Richmond Hill to adapt and thrive in an ever-changing world.
"We will work collaboratively with our new Library Board to ensure we continue to be relevant to the needs of our growing community and to improve people's lives," says Darren Solomon, Chief Executive Officer, Richmond Hill Public Library. "I'm thrilled that our new Board contains a diverse mix of experiences, skills, backgrounds and perspectives that will represent our community as we build modern services and spaces."
Residents applied to join the Library Board in the fall, and the new Richmond Hill City Council appointed Board members to four-year terms in November. The Board elected Stephen Chait as Board Chair and Sugantha Raj as Vice Chair during the first meeting on Dec. 5.
"It's a great honour to be elected as the RHPL Board Chair, a position I hold with high regard," says Stephen Chait, Richmond Hill Public Library Board Chair. "The Board consists of a wonderful mix of residents who are passionate about the immeasurable value that libraries provide to our community. Working together with the Library's leadership team, we'll ensure we reflect the needs of our diverse community so Richmond Hill can benefit from quality library services for years to come."
Grounded in a bold new strategic plan, RHPL is on a path to modernize how its services are delivered to our community. In 2023, the Library will launch an enhanced, online experience through a redesigned website; expand its collections beyond books to include passes to galleries and museums; and develop a Master Plan that will recommend future library spaces in Richmond Hill. The Library will invite community members to get to know its new Board members through posts on its website and on Facebook, Twitter and Instagram in the coming weeks.
---
Richmond Hill Public Library is committed to improving people's lives. We aim to provide each and every person in Richmond Hill with free, world-class experiences that help them thrive in a world of constant change. For more than 165 years, the Library has been a cornerstone of our community. Whether you prefer a physical or digital library experience, we offer a rich and relevant collection of resources, programs and hands-on experiences across four modern branches, our website, and through community outreach. RHPL is a safe, welcoming space for residents and businesses to connect with each other and to discover and explore new ideas and perspectives that support their wellbeing. An RHPL card is free to anyone who lives, works or goes to school in York Region. Learn more at www.rhpl.ca.
For more information, please contact: Annesha Hutchinson, Manager, Communications, Richmond Hill Public Library