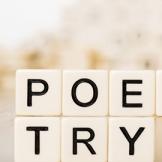 15th Annual Barry Dempster Poetry Celebration

Barry Dempster is hosting Richmond Hill Public Library's 15th annual celebration of National Poetry Month.
Poets of Honour are Heather Cadsby, Degan Davis, Doyali Islam, Jim Johnstone and Brenda Leifso. Enjoy readings, refreshments and book signings.
Admission: Free
---
Today's poem: 
scale by DOYALI ISLAM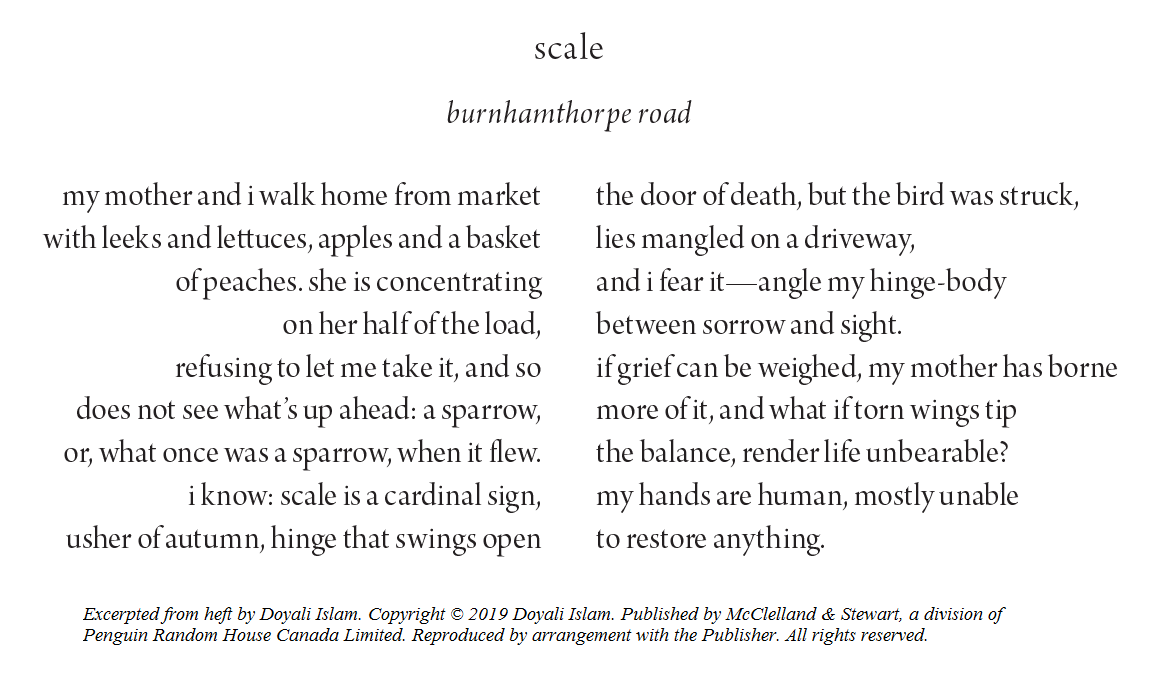 ---
Poets of Honour include: 
BARRY DEMPSTER

Barry Dempster, twice nominated for the Governor General's Award, is the author of sixteen collections of poetry, most recently - Late Style. He has been a finalist twice for the Ontario Premiers Award for Excellence in the Arts. He was also nominated for the 2014 Trillium Award for his second novel, The Outside World. His book of poetry "Disturbing the Buddha"(Brick Books, 2016) was shortlisted for the Raymond Souster Award. His most recent book is a collection of short stories, Tread & Other Stories, published by Tightrope Books. Barry has been the Writer-in-Residence at the Richmond Hill Public Library twice.

 

HEATHER CADSBY

Heather Cadsby is the author of five books of poetry. The most recent book is titled Standing in the Flock of Connections (Brick Books, 2018). In the 1980s, she and Maria Jacobs founded Wolsak and Wynn Publishers. Since that time she has been involved with Phoenix: A Poet's Workshop, The Axle Tree Coffee House readings, The Art Bar Poetry Series among other poetry related activities. She lives in Toronto.

DEGAN DAVIS

Degan Davis spent his childhood in Mattawa, Ontario, at the confluence of two rivers. He works as a Gestalt Therapist, both in a university setting and in private practice. Degan's poetry and non-fiction have appeared in such places as The Globe and Mail, The Malahat Review, Riddle Fence, and The New Quarterly. He is currently working on a collection of essays about masculinity, femininity, and how to be a good man in this era. He lived for many years in St. John's and now lives in Toronto. What Kind of Man Are You is his first poetry collection.

DOYALI ISLAM

Doyali Islam's brand-new poetry book is heft (McClelland & Stewart, 2019). Poems from this collection have been published in Kenyon Review Online, Best Canadian Poetry, and The Fiddlehead, and have won several national contests and prizes. In 2017, she was a guest on CBC Radio's The Sunday Edition (https://bit.ly/2VOwQ8p). More recently, she was interviewed by Steven Beattie for Quill & Quire (April 2019), and by Anne Michaels for CV2 magazine (Spring 2019). Doyali is the poetry editor of Arc Poetry Magazine, & she lives in Toronto. www.doyali-islam.com

JIM JOHNSTONE

Jim Johnstone is a Toronto-based poet, editor, and critic. He is the author of five collections of poetry, most recently The Chemical Life (Véhicule Press, 2017), and Dog Ear (Véhicule Press, 2014). Currently, he curates the Anstruther Books imprint at Palimpsest Press, where he published The Next Wave: An Anthology of 21st Century Canadian Poetry in 2018

BRENDA LEIFSO

Brenda Leifso's third book of poetry is Wild Madder, following Barren the Fury (Pedlar Press, 2015) and Daughters of Men (Brick Books, 2008), which was shortlisted for an Ottawa Book Award. Her poetry has been published in journals and anthologies across Canada, has won the Banff Centre Bliss Carman Poetry Award, and has been short- and long-listed for the CBC Literary prize. She is a freelance editor and occasional academic instructor, and also runs her own yoga business. She lives, gratefully, near the shores of Lake Ontario in Kingston, Ontario.