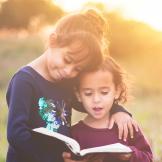 Adventure with Anne of Green Gables
Anne of Green Gables is a classic Canadian story by Lucy Maud Montgomery about a young orphan growing up on the historic east coast of Canada.
Access the Classic Story 
If you haven't read the story you can use your RHPL Digital Library card to access it through Hoopla.
If you would prefer, there is a graphic novel adaptation available on Hoopla as well. It is called Anne of Green Gables: The Graphic Novel by Mariah Marsden.  
Another alternative is available in the form of an abridged e-audiobook. You can listen to an abridged version of the story in less than 3 hours. This is a great option for younger audiences.
Regardless of whether you have an RHPL card, you can access a read along of the unabridged novel on Tumble Books.
First Challenge: Rename Everything Good! 
Anne has a charming sense of creativity and wonder. One way in which she displays this is in her love of creating names for the things she holds dear. When she saw a lovely little body of water and found out it was named Barry's Pond she responded by saying 'Oh, I don't like that name either. I shall call it – let me see – the Lake of Shining Waters. Yes, that is the right name for it. I know because of the thrill. When I hit on a name that suits exactly it gives me a thrill." Take a walk around your neighbourhood and see what names jump out at you. You could even draw them out on a map. 
Could You Walk the Ridgepole?  
There's a scene in the story when Anne is challenged to walk across the top of a house. She takes on the dare. Could you walk across the Ridgepole? Don't try it, but do practice. Find or set up a safe little balance beam and see how far you can go with a little practice.  
Take on a Digital Adventure of Your Own
Try this Anne of Green Gables themed Digital Escape Room from the Prince Edward Island Public Library Services.
Note: If you enjoyed this digital escape room, you can find a collection of digital escape rooms created by RHPL staff.
Bring the Adventure to the Kitchen!  
The story of Anne takes place 150 years ago on Prince Edward Island. The food mentioned is often very unfamiliar and worthy of exploration. With your RHPL Digital Library Card, you can access the Anne of Green Gables Cookbook by Kate Macdonald and bring all the creativity of Anne into your very own kitchen. You will find some of Anne's favourites there, including raspberry cordial and homemade ice cream.
Learn More About the Landscapes in the Story
The setting of Prince Edward Island plays a huge role in the story of Anne of Green Gables. Curious to learn more? Check out Landscapes of Anne of Green Gables by Catherine Reid on Hoopla to learn more about the coastal highlights that inspired Lucy Maud Montgomery.
Want more? See themed days by our staff on our Daily Adventures page.