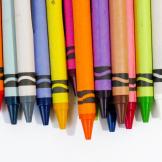 All About Crayons
Kim from Central Library is celebrating World Crayon Day from home! Here's what you can do to join her.
At our house, we went on a texture hunt then created a picture by rubbing crayons over the different textures we found. See the result below! ?)
There are more ways to celebrate!
- Crayola has lots of free printable colouring sheets
- Have some fun experimenting with crayon rubbings
- Want to try your hand at that melted crayon art you saw on Pinterest? Instructions are here but *warning* be careful where you point the blow dryer when melting the crayons – it can splatter everywhere! 
- The McMichael Art Gallery has a texture safari you can do from home.
For these next two links you will need your RHPL card for access!
- Watch the story "Harold's Purple Crayon" through BookFlix
- Find ebooks on how crayons are made plus a few crayon storybooks in Hoopla