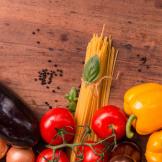 Allergy Friendly Cooking (Family)
Zoom programs
Every week on Tuesday and Tuesday at 18:59, and also on: 21.09.2021, but not on: 28.09.2021
Ages: Family (all ages)
Bam! Join Jenn for some tasty, allergy-friendly cooking classes. July's menu includes delicious desserts. August's specials are marvelous mains. And September's servings feature school safe snacks, à la carte!
Recipes and ingredients will be emailed to participants before each program.
This program will be done through Zoom, a free video conferencing software for tablets, smartphones and computers. Access instructions will be sent to those who register.
Want more programs like this? Check out our Allergy Friendly Cooking Program for Adults!