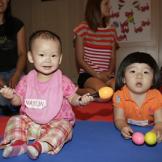 Babytime (In Person)
Richvale Library
Every week on Thursday and Thursday at 13:00
Ages: Family (0-12 months with caregiver)
Join us for songs, rhymes, tickles and bounces. Add some fun with your own scarf or rattle!
This program will take place in person at Richvale Library. Due to physical distancing, the capacity for this program is 16 attendees. Please arrive early to secure your spot. Tickets will be handed out 15 minutes before the program begins.
Please note: Your safety is important to us. Starting September 22, 2021, all eligible persons who attend in-person programs at any branch of Richmond Hill Public Library are required to show proof of COVID-19 vaccination. Exceptions will be made for those who are not eligible to get a vaccine due to age or proven medical exemption. To learn more, please review our FAQs.