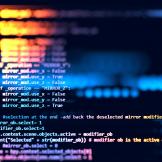 Black Holes in Action!
Stuck at home? Dive into the world of AR from the comfort of your own home with these apps available both from the Google Play and Apple 
App Store.
Augmented Reality (AR) at home
Moon walk: Apollo 11 Mission
 ⁕Moon Walk⁕ is a new augmented reality app that places you right in the middle of the Apollo 11 mission and gives a chance to repeat the journey of the bravest people.
Big Bang AR 
: Join Tilda Swinton and CERN scientists on an epic interactive journey through the birth and evolution of the universe - in mixed reality. Go back in time 13.8 billion years and discover how space, time and the visible universe came to be. See the universe form in the palm of your hand. Witness the formation of the very first stars, our solar system, and the planet we call home. Immerse yourself in the primordial mystery of the early universe in space and watch events unfold around you, in your own physical environment.
Civilizations AR:
Putting history in your hand - the BBC's first-ever Augmented Reality app 'Civilisations AR' brings art and culture direct to you from across the world  
Games
Angry Birds (AR) : Set up sling stations around your home and send these angry birds flying!
Application & Crafts
Thyng (Thyng brings the world around you to life by allowing you to create your own Augmented Reality scenes and share them with the world!)