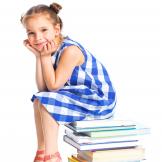 Book Clubs for Kids: Grades 1 & 2
Richmond Green Library
On the 1. Thursday each month at 16:30, and also on: 09.01.2020, 09.04.2020, but not on: 02.01.2020, 02.04.2020, 09.04.2020
Do you love reading? Come share the enjoyment of reading with other kids. Book Club members will read three books this fall and attend monthly meetings to participate in discussions, games, and other activities.
Note: *APRIL 9 MEETING CANCELLED*
Visit the Library in advance of the first meeting to pick up your copy of the book to be discussed in October. Book Clubs are FREE.