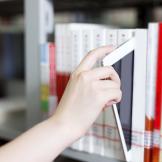 Book Clubs for Kids Grades 5 & 6
Central Library
On the 2. and 3. Tuesday each month at 19:00, but not on: 08.01.2019, 19.02.2019, 12.03.2019, 09.04.2019
Get ready for a fun reading workout! Build up your "reading stamina" while participating in the Kids Book Club Challenge! 
Book Club members will read four books this winter and attend monthly meetings to participate in literacy-based games, activities, and peer discussions. Are you up for the challenge? 
Bring your ticket to the library in advance of the first meeting to pick up your copy of the book that will be discussed. 
Please bring your Library Card or photo ID to check out the book club books. 
Note: Children under the age of 11 must be accompanied by an adult to the program room for drop-off and pick-up for the safety of the child.