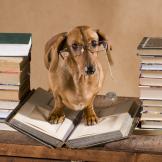 Book Wars for Grades 7, 8 & 9
Central Library
On the 1. and 2. Thursday each month at 19:00, but not on: 03.01.2019, 14.02.2019, 14.03.2019, 11.04.2019
Pick a side, choose a book, then prepare to defend it! 
Each month 2 books will be presented to the group. One half of the group reads one title and the other half reads the second. When we meet again, we will see which side read the better book. 
Please pick up January's book before the first meeting.