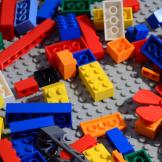 Building Challenges
In Your Home
Let's get building!  Your name doesn't have to be Bob to build! You can build with almost anything: cushions and pillows, LEGO, blocks of all types, cardboard boxes!  Let your imagination run wild!
Build a fort at home and talk about the steps needed to design and build the fort. Once your fort is built you can add twinkle lights, if you have them, and some pillows and blankets. Then curl up and start reading!
Grab your Richmond Hill Public Library card and check out our website.  We've tons of options for reading in your fort! Tumble Books, Hoopla, Overdrive and more!
Books on Building and Architecture
Hoopla
BookFlix
Overdrive
Get Building!
Here are some great ideas to start creating and building at home: