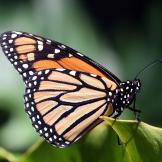 Butterfly Bonanza
Have you spotted a small white butterfly, known as a Cabbage White, playing in the grass? Have you been lucky enough to spot the orange and black wings of a Monarch?
Today's adventure is all about butterflies. We can make our own or learn about what butterflies live in our backyard. If you do spot a butterfly or create your own, please snap a picture and share it with us on our FaceBook page!
Crafts
Create a Monarch wind-up toy and watch it fly.
Finger paint butterfly craft is a really simple craft that turns out beautifully. It is great for children of all ages or adults that want to get back to their youth and enjoy some fingerpainting! 
Coffee filter butterfly craft  - quick, easy and beautiful.
This simple magazine pages butterfly is sure to brighten up any room. 
Create a sun catcher butterfly with melted crayons.
Let's Learn 
Check out the Nature Conservancy of Canada's (NCC's) summertime butterfly guide, and discover how to identify and attract Canadian butterflies to your backyard!
Check out this handy guide to the butterflies of Ontario, or this fun summer guide to recognizing butterflies in your city.
What does a lepidopterist do? Learn about butterfly study in Canada.
Videos and Live Cams
Tour the San Diego Safari Park Butterfly Jungle or check out the Butterfly House live cam in Victoria, Australia.
Here are a few more butterfly cams.
Books
You will need your library card for these resources
Overdrive has a few butterfly books that you may find interesting.
Search 'butterfly' / 'butterflies' in: Hoopla (there are a lot of interesting butterfly books there); Bookflix; and Scienceflix.
Want more fun? See themed days by our staff on our Daily Adventures page