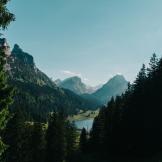 A Camping We Will Go
We have got a solution for anyone who might be feeling cramped up.  Join us for an imaginary camping trip!
First Things First
Find yourself a campsite and build a fort or a tent.  This could be a collection of blankets draped over the couch.  This could be imaginary, or you could live vicariously through dolls or Lego figures. 
Indoor Fishing
Here's a fun way to spend some time!  You need paper, scissors, something stringy, and something sticky or rather, stick-like.  Paperclips are also helpful but they can be replaced with the help of some creativity.  Cut out some fish, attach a paperclip, make a hook, and go fish!  You could write little challenges or activities on the back of each, or just enjoy the fishing.
Who Do You See? 
Each year, Algonquin Park posts a compilation of footage from their motion-sensor trail cameras on Youtube.  Check out last year's compilation to see who might pop by!
Nature Bingo!
Make your walk an adventure by creating your own Nature Bingo Sheet.  You know your neighbourhood  - include some things you can expect to see and some you can hope for. 
As an alternative to creating your own, the Toronto Region Conservation Authority has a great activity set that can help you spot signs of spring including a printable nature bingo sheet.  Check it out the link for more. 
Camp Songs
Once you've got your tent set up, and you've spent some time observing the wildlife, you can practice your campfire singing skills.  Follow these links to some of our favourite camp songs:
Nature and Camping Stories
Who doesn't love a good story by the imaginary campfire? 
There are some great stories available through our website.  Anyone can access animated story books on Tumblebooks.  We recommend A Camping Spree with Mr McGee by Chris Van Dugen, You Can Come Too by Ruth Ohi, and Gotcha! by Jennifer Dussling.
With your RHPL library card you can enjoy an animated story about a squirrel who's a little nervous about leaving his home called Scaredy Squirrel by Melanie Watts.
You can also use your library card to access an ebook called Kids Camp! by Laurie Carlson and Judith Dammel, which will give you ideas for nature themed activities and crafts you can do in your own backyard. 
Have fun!