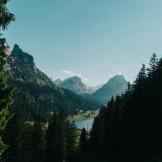 Caves!
Let's Start with Some Learning!
What are caves? How are they made? Who lives there? What are some of the most awesome caves?
To help you answer these questions, we recommend the following three YouTube videos: 
Types of Caves for Kids - will teach you about the different kinds of Caves that exist and introduce you some of the ways in which caves are formed.
How Do Caves Form? Will further explain how caves come into existence and introduce you to one of the biggest and most outstanding caves on Earth. 
Top Ten Most Amazing Caves - will share information and images of some other really amazing caves and explain how they came to be. 
Cave Exploration: A Virtual Experience
It's time to explore a real cave in a very virtual way! Take a virtual tour of Carlsbad Caverns with the National Parks Service.
Cave Exploration: With a Book and a Detective's Eye
Caves come with many mysterious aspects that spark questions about where they came from, how and when they were formed and who lived there. With your RHPL library card you can access a great book that will walk you through the process of discovering, exploring and analyzing an old cave.
Cave Detectives: Unraveling the Mystery of an Ice Age Cave by David L. Harrison
Story Time with the ROM Bats!
When you think of caves, and live in the GTA one particular cave might pop into your mind. The ROM in Toronto has a well loved exhibit called the Bat Cave. In this recreation of the St. Clair Cave in Jamaica you can explore what a cavernous bat habitat might be like. It's definitely one of our favourite parts of the ROM.  In the link below, ROM staff share a story about two bats that live in the cave.
Other Batty Books to Enjoy
Enjoy a classic, family favourite story featuring the Berenstain Bear cubs and a dark, spooky cave!
The Berenstain Bear Scouts in the Giant Bat Cave by Jan and Stan Berenstain
Want to learn more?  Check out this book about caves to learn more about caves including information on the creatures who live here, and the brave people who explore them.
Biggest Baddest Book of Caves by Alex Kuskowski
Check our RHPL's website for more of our Daily Adventures.