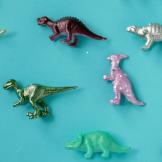 Celebrate Poetry for Kids!
Online Programs
Ages: 3-6 and 7+ (different activities for different ages).
Join us online for poetry-based activities in celebration of Poetry Month!
New activities posted every Monday below! 
---
Program activities: Week of April 14
Explore dinosaurs and other extinct creatures through rhymes and poetry!
If I were a brachiosaurus
I'd sniffle like a rabbit,
I'd stomp like an elephant,
I'd munch and crunch and stretch up to the treetops!
Ages 3-7
Read about dinosaurs online with BookFlix, free with a library card. Log in to BookFlix here.
Then read about dinosaurs here. Be sure to log into Bookflix with your library card at the link above first! Watch the story! Read the book! Play a game!
Build and decorate your own toilet roll dinosaurs! Follow these handy instructions [pdf].
Use your toilet roll dinosaurs to sing some dinosaur rhymes [pdf].
Dance and move like a dinosaur as you sing a rhyming song! [YouTube]
Ages 7+
Research extinct creatures online with Britannica Library, free with a library card. Log in to Britannica Library here.
Explore the Animal Kingdom tab, to learn about creatures alive and extinct.
Then compose your own "If I Were a…" poem.
Use coffee grounds to make your own dinosaur fossils. [pdf]