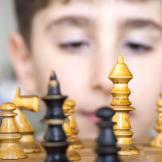 Chess Classes: Intermediate I
Central Library
Every week on Tuesday at 19:20, but not on: 03.09.2019, 10.09.2019, 17.09.2019
This program is a multi-week course that runs from July 9 to Aug 27, 2019 (Summer Session) OR Sept. 24 to Nov. 26 (Fall Session). 
Age group: 6-12 years.
Learn to play or improve your chess game. Master the chess moves and learn the importance of each piece.  If you are a current chess student at Richmond Hill Public Library, please consult with the instructor as to what level you should register in for the next session before you register. Register early as space is limited. 
Children under the age of 11 must be accompanied by an adult to the program room for drop-off and pick-up for the safety of the child.
Admission: $75.00 per child.