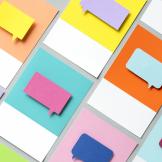 Community Conversation: Climate Crisis
Central Library
What is happening in our community? Join us as we open a dialogue about climate crisis in our community.
Our distinguished panelists are Marney Beck Robinson, Author and Journalist (the Moderator); Esther Collier, Chair of the Net Zero Committee; Peter DeVita, Professional Engineers Ontario Past President; Julius Lindsay, Project Manager, Climate Change Initiatives, City of Richmond Hill; and and Carrie Tai, Neighbours for the Planet.
Find us in the Events Room.