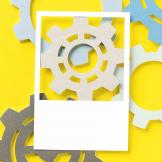 Construction Fun!
Welcome to today's daily adventure. Today we are going to get to work and investigate what can be done on a construction site using construction vehicles.
To start, let's get to know the different vehicles that can be found on a construction site and figure out what each one does.  Check out this video called Learning Construction Vehicles for Kids. Which one is your favourite and why?  
Imagine Them in Action with the Help of Lego 
Have you seen these vehicles at work on a construction site? If not, this stop motion animation featuring Lego should help you get an idea of how these vehicles are used. 
Get Creatively Constructive! 
It's time to raid the recycling bin!  See if you can invent and design your own construction vehicle and create a prototype or model from the things found in your recycling bin. What would your machine be called? What would it be used for?  
Want to Learn More? 
The Construction Machines Series by Charles Lennie is available on Hoopla to those with a Richmond Hill Library Card. There are six books, each focusing on a prominent construction vehicle.  Be sure to check them out if you want to learn more about one or some of the vehicles you would find on a construction site.  
Let's Dig into A Story! 
For those with a Richmond Hill Library Card, we recommend checking out the following titles on Hoopla to continue the adventure in a more literary form.  
For those with or without a Richmond Hill Library card, we recommend taking a look at Goodnight Goodnight Construction Site by James Dean on Tumblebooks. Simply use the login at the link above and search for it by title. It's a great way to end this day of construction themed adventure.
Want more? See themed days by our staff on our Daily Adventures page.