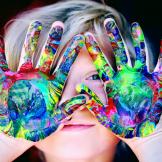 Crafty Kids: Garden Crafts
Facebook Live
Ages: Family (all ages)
Craft your own garden accessories. Tune in for a tutorial on snapping dragonflies, blooming flowers, and twirling ladybugs!
Free craft kits will be available for those who register to pick up at the Richmond Green Library prior to the program start date.
Register to pick up your free craft kit
This program will be presented Live through Facebook.
Want More? Check out Crafty Kids: Let's Go Camping on May 26.