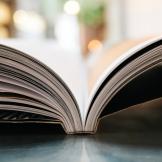 The Crate: A Story Of War, A Murder, and Justice
Central Library
Age: Adults
Deborah Levison is a daughter and granddaughter of Holocaust survivors, and her presentation recounts not only her family's poignant stories of survival, but also a grisly, present-day true crime that rocked their lives. Her novel The Crate: A Story of War, a Murder, and Justice, tells the intimate story of a gruesome murder that involved her family: In 2010, they discovered a wooden crate hidden underneath their cherished cottage in Muskoka. Debbie's talk opens in Toronto of the 1970s and widens into a speculation on violence in our society.
Born and raised in Canada, Debbie attended the Royal Conservatory of Music and the University of Toronto before relocating to Connecticut. By day she is a writer and director at a strategic communications firm.
Find us in Rooms A and B.