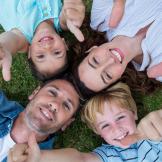 Create Your Own Family Bucket List
When you start a family bucket list, you embark on a series of wonderful adventures. What activities will make it on your family's bucket list?
A bucket list consists of things you want to do in your lifetime (before you "kick the bucket"). The concept has been around for a while and received a boost in popularity by The Bucket List movie.
The expression has been expanded to include goals people want to achieve within other time frames as well, such as before certain birthdays or life events, before holidays or vacations come to an end, before the kids reach a certain age, and so on. A family bucket list, therefore, is a way to think of the fun things you'd like to do together.
Types of Bucket Lists
Here are some examples of categories for family bucket lists:
For Kids: A kid-friendly introduction to bucket lists
Vacations: Things to do on summer or winter vacation
Weekend: Ideas for staycations, family projects and local adventures
Travel: Places and/or landmarks to visit as a family
Hobby: Adventures relating to a shared family interest (sports, the outdoors, photography, music)
Age: Things to do before your kids start school, become teenagers or graduate high school
Creating Your List
Have a conversation as a family about what a bucket list is and things to put on it. Share examples of bucket activities and decide if you want a theme. Is this a bucket list of things to do during the school year, over the summer, or before your kids turn a certain age?
The list can include anything, from simple (a picnic in the backyard or an afternoon at the library), to travel (a trip to a fair in another town or a drive to an area of your county you have never been before), to educational (a day at a science or art museum) to even a big dream (a cross-country drive to the ocean).
Read your lists and provide convincing reasons for including each item. Set a flexible limit on how many total items to put on your list, such as by how many clothespins fit around the edge of the bucket or by the number of days available. Then make a master list. Merge your duplicate items and add a certain additional number from each family member.
Have too many good ideas to discard any? No problem! Make a "reserve list" for ongoing items, which you can use to fill in your bucket after you get through some of the list. This is your family's commitment to having fun and spending time together and will be a work in progress for years to come!
Want more? See themed days by our staff on our Daily Adventures page.