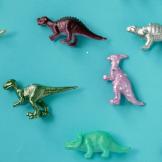 Dino-Mite!
It's a Dino-riffic Day! And this is a Dino-tastic list of dino-mite things you can do to celebrate dinosaurs and learn more about them.
Start with a Little Learning
DK is offering free access to their online learning materials.  Follow this link to find information and pictures about a ton of dinosaur-related topics.  
Get to the Bones of the Situation
The Royal Ontario Museum (ROM) has an online collection of artifacts. You can access this collection to see some cool fossilized mammals (including dinosaurs).  
Dig a Little Deeper
Dinosaur bones and other fossils are often buried underground, waiting to be found.  The joy of hunting for treasure and hoping to uncover a rare fossil or artifact is one reason to become an archaeologist. Recreate your own dinosaur dig site with the Shoebox Dig or the Dinosaur Dig, as found on the blog Fun Learning for Kids.
Piece it All Together
You have looked at some cool dinosaur bones. Do you think you could put a dinosaur skeleton back together?  Give it a try with this Paleo Puzzle from the ROM.
Time for a Story
Anyone can access these animated stories available through Tumble Books. Search for the following titles for some more dino fun!
Tyson the Terrible by Diane and Christyan Fox
Dinotrain by Deb Lund