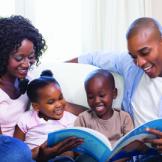 Early Literacy Workshops
Richvale Library
On the 3. Wednesday each month at 11:00
Literacy preparation starts at birth! Parents of children ages 0-5 will share information, tips and more to help prepare little ones to read and succeed.
Little ones welcome! No registration is required for this drop in program.
Sep 18: How to Bring Storytime Home
Oct 16: Talk, Sing, Read, Write, Play
Nov 20: Your Preschooler is a Storyteller, and You Didn't Even Know It!
Limit of 30.