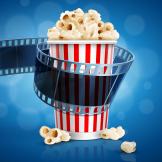 Film Club
Zoom programs
On the 3. and 3. Wednesday each month at 14:00, and also on: 23.09.2020, 28.10.2020, 25.11.2020, but not on: 16.09.2020, 21.10.2020, 18.11.2020, 16.12.2020
Ages: Adults
Stay connected with our virtual film club! Join us for a discussion of the following films:
Jan. 20 Misbehaviour
Feb. 17 Paterson
Mar. 17 Hunt for the Wilderpeople
Apr. 21 Monsoon Wedding
All films are available are available for free with an RHPL card through Hoopla.
This program will be done through Zoom, a free video conferencing software for tablets, smartphones and computers. Access instructions will be sent to those who register.