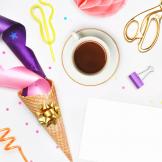 Get Artsy
Zoom programs
On the 2. and 2. Thursday each month at 19:00
Ages: Teens (13-17)
Discover your inner artist with a new project each month. 
April: Let's celebrate poetry month with black out poetry and make our own magnetic poems.
May: Celebrate spring with a cute little sock gnome.
June: Let's create light-up galaxy paintings! 
Free craft kits will be available for pickup one week before the program at any RHPL location to those who register.
This program will be done through Zoom, a free video conferencing software for tablets, smartphones and computers. Access instructions will be sent to those who register.
May 12: Register
June 9: Register