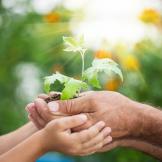 Get Gardening!
Spring is the perfect time to get gardening! 
We've created a gardening resource library to help you get started.
Click on the links below for gardening tips, online resources, crafts, games, and activities: 
And remember to save your seeds so that you can participate in our annual seed swap next April!
Happy gardening!
Gardening AMA
Missed our Gardening AMA? Still wish you could hear from experts at the Richmond Hill Gardening and Horticultural Society? No problem!  Check out our Facebook page to see the video.
Also from the Richmond Hill Garden and Horticultural Society: Check out this great info sheet to read incredible facts about the amazing Monarch.