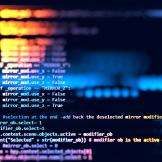 Getting Started With Scratch Junior
Online Programs
Every week on Monday, Tuesday, Monday and Tuesday at 13:00, but not on: 10.08.2020, 17.08.2020, 24.08.2020
Ages 5-7
In this series of programs, you'll learn to code on your iPad with Scratch Jr! Create your own interactive stories and games.
Aug. 4: Let's Look at the Interface
Aug. 11: Backgrounds and Start on Green Flag Block
Aug. 18: New Characters and Start on Tap Block
Aug 25: Recording Sound and Using the Wait and Speed Blocks
View the premiere of this pre-recorded program video on our Facebook page.