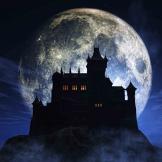 Ghostly Tales
In Your Home
You don't have to wait for Halloween to explore otherworldly tales and spooky stories of ghostly apparitions.
History of Ghost Stories:
What are ghosts? What are the most haunted places? Read all about the most famous ghosts and spooky places on History.com.
Did you know some people go hunting for ghosts? Learn how to spot a ghost with CBC Kids.
Make Your Own Ghost:
How do haunted houses, movies, and stage shows make ghosts appear? Often, they use a special illusion called the Pepper's Ghost Illusion, named after the man who created it. You can make the illusion work for yourself. Follow these instructions for Pepper's Ghost Illusion on Instructables. Check out this Make video on YouTube that shows how it works.
Want to make a ghostly hand appear? Try this ghost glove science experiment from National Geographic Kids.
Spooky Stories:
Tune into our Facebook page at 2pm on August 20th, when Megan will be sharing some campfire stories as part of our TD Summer Reading Club for Kids.
Reading:
You can check out these books with a valid RHPL card.
Ghostly stories on hoopla.
Haunted Canada books, both print format and on Overdrive.
Want more? See themed days by our staff on our Daily Adventures page.