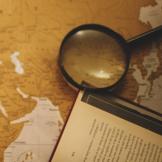 Golden Adventure
Welcome to today's golden adventure.  We will be investigating gold and mining for adventures. 
How is Gold Made?
Let's start with a video overview of how gold is made!  Check out this YouTube video from the Newmont Mining Corporation
Would You Join the Rush?
In 1897 many adventures set out in search of gold in the Klondike.  Would you have chosen to go with them?  Explore the subject further with this Mystery Quest titled "Should I Join the Rush?"
What's So Special About Gold?
Wondering what all the fuss is about?  Visit the ROM's Online Collections to view some spectacular artifacts.  
What Does a Mine Look Like? 
Check out this site for more information on the life cycle of a gold mine.  Click through the stages to learn about how they are developed and what happens to the mine when the gold is gone.
Mine for Your Own Kind of Treasure
Have you ever wondered what it would be like to work in a mine and search for valuable metals or minerals?  The ROM gives you a taste of this sort of adventure with this mining activity! Enjoy!
Investigate Further!
Anyone with an RHPL card can learn more with these great resources on Hoopla. 
So we have talked about how to mine it, but where does gold even come from?  Find the answer and so much more in How Precious Metals Form by Julia McDonnell.
Gold and Silver by John Perritano will help you learn even more about gold and other precious metals. 
Are you still curious about that Klondike adventure we explored earlier?  The Gold Rush by Monika Davies gives readers a look into the what life was like during the California Gold Rush.
Want more? See themed days by our staff on our Daily Adventures page.