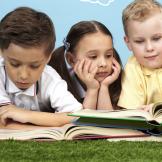 Grade 1 & 2 Book Club
Zoom programs
Every week on Tuesday and Tuesday at 18:59, and also on: 15.03.2022, 12.04.2022, 17.05.2022, 14.06.2022, but not on: 19.04.2022, 21.06.2022
Ages: Kids (Grades 1-2)
Join us each month to discuss books, play games, and meet new friends! All titles are free with your RHPL card and available online through Hoopla.
Jan. 11: Whale of a Tale by Rob Scotton
Feb. 15: Pete the Cat: Out of this World by James Dean
Mar. 15: Super Sloth by Robert Starling
Apr. 12: Iggy Peck, Architect by Andrea Beaty and David Roberts
May 17:  The Boy with Big, Big Feelings by Britney Winn Lee and Jacob Souva
Jun. 14: Zoey & Sassafras: Grumplets and Pests by Asia Citro and Marion Lindsay
This program will be done through Zoom, a free video conferencing software for tablets, smartphones and computers. Access instructions will be sent to those who register.
 
Register (Jan.-Mar. 2022)
Register (Apr.-Jun. 2022)