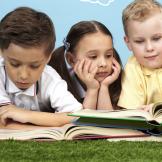 Grade 1 & 2 Book Club
Zoom programs
Every week on Tuesday and Tuesday at 18:59, and also on: 14.12.2021, but not on: 21.12.2021
Ages: Kids (Grades 1-2)
Join us each month to discuss books, play games, and meet new friends! All titles are free with your RHPL card and available online through Hoopla.
Oct. 12: Ta-Da! by Kathy ellen Davis and Kaylani Juanita
Nov. 16: CeCe Loves Science: Push and Pull by Kimberly Derting and Shelli R. Johannes
Dec. 14: Brownilocks and the Three Bowls of Cornflakes by Enid Richemont and Polona Lovsin
This program will be done through Zoom, a free video conferencing software for tablets, smartphones and computers. Access instructions will be sent to those who register.