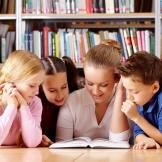 Grade 5 & 6 Book Club with Leah
Zoom programs
On the 2. and 2. Tuesday each month at 19:00, but not on: 14.01.2021, 19.01.2021, 26.01.2021, 03.02.2021
Ages: Kids (Grades 5-6)
Get into great eBooks with new friends! Read and discuss great titles every month. All titles are available for free download with your RHPL card through Hoopla.
This winter, look forward to reading:
Jan. 12: Inside Out & Back Again by Thanhha Lai
Feb. 9: your pick between Linda Williams Jackson's Midnight Without a Moon and Denise Lewis Patrick's A Matter of Souls
Mar. 9: In the Red by Christopher Swidler
Apr. 13: your pick from Serena Valentino's Villains series
This program will be done through Zoom, a free video conferencing software for tablets, smartphones and computers. Access instructions will be sent to those who register.