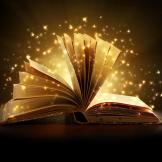 Harry Potter Magic
Harry Potter Magic
It all began with the Boy Who Lived. In 1997 (23 years ago!), the world was first introduced to Harry Potter and his magical world. Despite the series being over two decades old, it remains as popular today as it did in the past. New content continues to be created even now. Feel free to use this time in quarantine to dive even deeper into the wizarding world!
Accio Books!
Obviously the easiest way to embrace Harry Potter is to reread the classic books. All seven of the Harry Potter books as well as the readable version of the play Harry Potter and the Cursed Child can be found through the Library's ebook collection. While some of the ebooks might be checked out from time to time, the one that started it all (Harry Potter and the Philosopher's Stone) is always available without a wait thanks to an arrangement with Overdrive. The fun doesn't stop there. Various books about the wizarding world are available there too – including The Unofficial Guide to Crafting the World of Harry Potter. You can browse all the electronic offerings in our catalogue here.
#HarryPotterAtHome
During the quarantine #HarryPotterAtHome (accessible here), helps to bring the magic to life. You can enjoy crafting videos, puzzles, quizzes, and fun articles for free – courtesy of the publishers of the boy wonder, Bloomsbury and Scholastic. One of the most amazing things that you can see on this site are weekly videos of famous stars like Eddie Redmayne, David Beckham, and Dakota Fanning reading chapters from Harry Potter and the Philosopher's Stone. Daniel Radcliffe (Harry Potter himself!) can even be viewed reading the very first chapter. The best part of this online hub is that it is constantly evolving and growing. You can check back daily for new additions.
Tons of Wizarding Fun
Have you ever wanted to be sure of your Hogwarts House? Do you know if you are a Gryffindor or a Ravenclaw? Sign up for Wizarding World here to take the official quiz to know for sure!
If you cast the spell Expecto Patronum, you can expect to see an ethereal animal burst from your wand. The Patronus you cast is linked closely to your spirit. There are many quizzes to find out what your animal might be. Check out this one or this one to help figure out the form of your Patronus.
Are you a Hermione-level "insufferable know-it-all"? Prove your knowledge of Harry Potter by taking the Library's Kahoot quiz. You can test out your trivia skills with this link or using the Kahoot Game PIN 04596707.
Want more? See themed days by our staff on our Daily Adventures page.