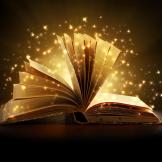 Harry Potter's Birthday
It's Harry Potter's Birthday!
Celebrate with us by getting sorted and playing some wizard games. Next, try out a Hogwarts class lesson (or two) from home. Then, explore the incredible world of Muggle magic. And, tell us what you like better by casting your vote in our online Harry Potter questionnaire. End your day with a magical story by checking out one of the e-books or e-albums we've recommended!
Get Sorted
Eager to know which Hogwarts House you belong to?  Leave it to fate to decide! Download and print this Hogwarts House Fortune Teller. Then, follow these instructions to uncover your magical destiny.
Prefer to choose your own destiny? Download and print this Hogwarts House personality quiz to discover it yourself.
Create your own wand
Have a go at creating your own wand by visiting this website!
Young Wizards' Favourite Games
Wizard Skittles
Exploding Snap
Gobstones
Be sure to watch our video on July 31st at 2:30 pm to see how to play these games and get a code word for the TD Summer Reading Club for Kids.
Hogwarts Classes
Defense Against the Dark Arts
Astronomy
Arithmancy
Potions
History of Magic
Muggle Magic and Squib Sorcery
Muggles and Squibs can make magic too – you just have to be creative!
Transfigure a 2D design into a 3D object on TinkerCad.
Or, bring an image in your mind to life by sketching a magical drawing of your favourite Harry Potter character or scene. Share it with us by tagging us on Instagram, Facebook or Twitter.
You can even create your very own Marauder's Map. Learn how to make invisible ink with lemon juice on Science Kids.
Then, experiment with flavours by baking your own bunch of Bertie Botts Every Flavoured Beans! Find our favourite recipe here. You can also print and build your own Bertie Bott's Every Flavor Beans boxes to house them.
And you can try other Harry-Potter-inspired recipes in Aurelia Beaupommier's An Unofficial Harry Potter Fan's Cookbook, available immediately on Hoopla with your RHPL card.
Embody your inner Beedle the Bard and make magic using words. Write a short, fan fiction story. Use one of these ideas, if you need inspiration:
·       Write a scene from a different character's point of view – maybe Hermoine or Ron, or even Neville or Luna!
·       Write a mini prequel, about Sirius, James, and Remus, and Lily
·       Change the setting: what would Harry Potter be like in outer space?
For more magical craft and activity ideas, check out Jamie Harrington and Dinah Bucholz's The Unofficial Guide to Crafting the World of Harry Potter on OverDrive.
Can't wait? Check out Scholastic's list of free Harry Potter activity ideas.
Cast Your Vote
There's so much to love about J.K. Rowling's Harry Potter series - but a lot of Potter fans find themselves on opposite teams when it comes to deciding what they love, best.
Let us know where you land by casting your votes on our Harry Potter questionnaire!
"When in doubt, go to the library!"
Can't get enough of the Harry Potter series? Make sure you check out these awesome resources, available online!
 eBooks available with an RHPL card:
The complete Harry Potter series is available to RHPL customers on OverDrive. But we also found these other e-books we think you'll love:
Quidditch Through the Ages by J.K. Rowling and Kennilworthy Whisp
The Alchemyst: The Secrets of the Immortal Nicholas Flamel Series, Book 1 by Michael Scott
Check out our History of Harry Potter Reading List as well!
Harry Potter website that we recommend: www.wizardingworld.com
Streaming music you can access with your RHPL card:
Magical Music on Freegal
Magical Music on Hoopla
Want more? See themed days by our staff on our Daily Adventures page.