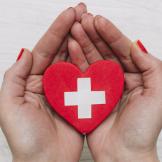 Health and the Human Body
May 12th is International Nurses Day! This day was chosen because it is the anniversary of Florence Nightingale's birth. Florence is considered to be the founder of modern nursing. During her life, she worked tirelessly to raise the standards of care in the medical field and increase the education of nurses. Let's take the opportunity of this special day to look into the world of health and the body as we say "thank you!" to all the nurses of the world.
 
Learning About the Human Body

KidsHealth.org has a one-stop website called How the Body Works. This kid-centred website features activities, videos, articles, and even quizzes on all the major parts of the body. From immune cells to bones to teeth, you can learn so much in this single website. There are even word finds to buff up your human body vocabulary.


Studying the human body isn't all dry textbook information though. The "gross factor" is one of the best ways to get kids interested in the field. Take a look at the Icky Q&A to get some answers to disgusting questions that you might have been too afraid to ask like "why do feet stink?".
 
Learning About Medicine

Take nurse pretend games to the next level with Knight Nurse. This online game created by medical professionals lets kids help wizards, trolls, and other magical creatures with their problems. Play here.


SickKids have created an entire website called About Kids Health. You can access online games and informational videos about injuries, illnesses, and medical procedures in a fun, kid-friendly way.


For those wanting more in-depth information for older kids and teens about medicine, About Kids Health has hundreds of articles in their Health A – Z Collection.
Staying Healthy

The Canadian Paedriatric Society has a program called Active Kids, Healthy Kids. The main website for the program (found here) has separate sections for different age groups that feature growth charts, strategies for increasing physical activities, and videos about active living.


Sesame Street has their own Healthy Habits Toolkit. The kit has tips for parents, games, art handouts, and videos to make health education engaging and entertaining. It is great for introducing these topics to young kids.
Interested in Health Care?

The field of health care is one of the fastest growing industries. The Children's Hospital of Wisconsin has a collection of short videos that highlight a wide range of medical careers, including specialist nurses. Access this video collection here.
Want more? See themed days by our staff on our Daily Adventures page. ​