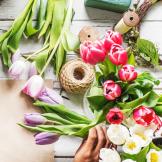 Lavender
Lavender (Lavandula)
Lavender is an outstanding perennial flower and a great plant to attract butterflies, bees, and other pollinators to your garden. It is also a herb that has been used for hundreds of years as a calming and soothing scent. English and French lavender are the most popular varieties of lavender grown in the Ontario region. While Lavender is usually regarded as a summer-blooming flower, some Lavender plants are early bloomers with their magnificent blooms appearing early in spring. So if you are willing to drive out of the city, July is a month where you will likely be able to see fields of Lavender in bloom in Ontario. 
Soothing ideas for lavender sensory play, crafts and recipes
Lavender is beloved for their scents and is often associated with relaxation, and can be great to use with children and babies. Lavender can be dried and used for bath soaks, in the kitchen, and for fragrance. In the Kitchen: You can make Lavender infused ice cubes, Lavender lemonade, Lavender Infused Sugar and so much more!
Lavender Recipes
Calming Lavender activities for kids