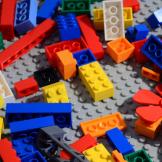 LEGO Activities
Looking for more things to do with your bin of Lego?
Kim from Central Library has gathered a few fun ideas to keep everyone busy.
My daughter and I decided to use Lego for art time. We grabbed a few different pieces of Lego, some paint and made Lego prints. (See picture above) We also use flat Lego pieces to create a spring picture.
There is a lot of ideas and projects for Lego out there, here are just a few!
Want to build a Lego cupcake or Lego Dog? LegoLand California has videos to show you how! They also have printable colouring sheets, mazes, trivia and more.
https://www.legoland.com/california/legoland-california/llcbuildingchallenge/
Use Lego to learn more about engineering, math and art here
https://frugalfun4boys.com/play/lego/
Scholastic has some fun and educational ideas for 8-10 years olds
https://www.scholastic.com/parents/kids-activities-and-printables/activities-for-kids/lego-activities-8-to-10-year-olds.html
We have plenty of Lego ebooks in our collection
https://rhpl.ent.sirsidynix.net/client/en_US/default/search/results?qu=lego&qf=ERC_FORMAT%09Electronic+Format%09HTML%09HTML+%7C%7C+ADOBE+EPUB%09ADOBE+EPUB
Want some more Lego ideas and challenges? On Wednesday April 8th at 4 pm we will be posting our first virtual Lego program on our Facebook page. Be sure to check it out.
https://www.rhpl.ca/whats-on/calendar-of-events/lego-art-challenges
If you try any of these ideas – share them with us by tagging us through one of our social media channels.
And finally...
A Message for Canadian Children by LEGO Prime Minister Justin Trudeau
https://youtu.be/zBBjz16J-nU