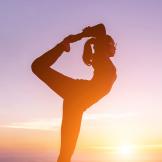 Let's Get Moving!
Have some energy to burn off? Kids bouncing off the walls? Snacks and baked goods within easy reach Let's get moving together! While the parks are closed, we can still be active at home.
Kim and her daughter created an indoor obstacle course where you had to tight rope walk, hopscotch, bounce, crawl under tables, summersault, jump, spin and do a little head and shoulders on a chair. 
There are lots of great ideas and resources out there. We have a few here to get you started.
---
YMCAGTA offers free daily fitness classes for all different ages live on their Facebook page.
---
Go Noodle is a great way to get the kiddos moving! 
www.youtube.com/user/GoNoodleGames
 
---
Cosmic Kids Yoga combines kid's favourite characters and stories with yoga
www.youtube.com/user/CosmicKidsYoga
---
YouTube has some great Just Dance, Just Dance Kids and Kidz Bop videos to dance to. Can you follow their moves? 
This one is a favourite – The Freeze Game https://www.youtube.com/watch?v=0ebf3dGGdFg 
---
Kids and Adults may want to join this gym class! P.E. with Joe offers daily 30 minute work outs. This is a good work out – make sure you have some water nearby!
www.youtube.com/playlist?list=PLyCLoPd4VxBvQafyve889qVcPxYEjdSTl
---
Teens and Adults can learn dance moves with daily classes by City Dance Corps through their Instagram 
IG Live @citydancecorps