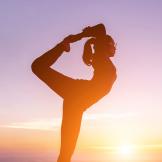 Let's Get Physical Indoors
It may be hot outside, but it is still important to stay healthy and active! There are plenty of offerings online that you can comfortably do inside your air conditioned home or outside in the shade. Both dancing and yoga make good options.
Dancing
For an easy start, try the Gonoodle app. You can access videos for kids to have a short dance break. It is also great to get some physical activity in between studying or other endeavours. 
If you are already a dancer and want to get more practice and expand your experience with different styles, look to City Dance Corps. Their Instagram feed offers daily dance classes on Instagram Live in a variety of dance genres.
You do not necessarily have to be in perfect health or go "all out" to get the benefits of dance. The website called Dancing with Parkinson's provides free 20-minute movement/dance classes through a live stream. The classes are perfect for those with Parkinson's or other health issues.
Yoga
The YouTube channel of Cosmic Kids Yoga provides kid-friendly yoga and mindfulness videos. You can access them on the website for free or even subscribe to their app.
Gaia Kids features yoga videos for kids, tweens, and even has a stream for adults. The yoga lessons are based around different themes like outer space or dinosaurs to be engaging for young people. The free versions of the videos do feature ads, but they are worth it!
Don't forget the library's digital collection! We have just under 100 ebooks that cover yoga for adults and kids. You can access the list here.