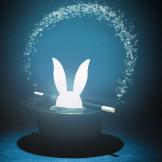 Magic!
On today's adventure we are going to explore Magic as we get ready for the TD Summer Reading Club for Kids Virtual Launch Party on June 20! Visit the link to find all the details and more magical activities and printable pages. 
Where shall we start? Well first we should look like a magician!
Top Hats
Here are a few ideas for making a top hat:
"Rabbit Magic" and DIY Magician's Hat and Wand
How to Make a Magician Hat Out of Paper
Homemade Magic Kit - This one is simplest and uses a paper bag
Wands
What's next? A wand – all good magicians need a wand! We decorated a stick that we found with gold paint and glitter, or you could use a chop stick or even a popsicle stick. Add stickers, ribbons – whatever you have at home. Here are some more ideas for magic wands:
Sparkly Magic Wands
Harry Potter Craft - Magic Wands
Simple Electronics: How to Make a Magic Wand - this one involves simple electronics and lights up.
Magic Tricks!
Now we need to know some magic tricks so we can put on a show! Please – make sure to ask your big person for permission before trying any of these magic tricks!
Magic Tricks and even more Magic Tricks
This video has 5 simple but impressive magic tricks even little kids can do.
5 minute Crafts for Kids have a fun video highlighting a few great tricks.
Your Magical Library Card
Now there is a very magical card you will need for these resources … Your Library Card!
Overdrive has some great fiction and non-fiction ebooks on magic here.
Search "magic" in Hoopla Kids for more great ebooks.
You can also place a hold for curb side pick-up on our magic print books found here.