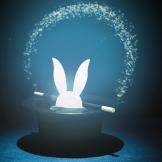 March Break - WonderPhil Magic Show
Central Library
WonderPhil will amaze, amuse and astound you with his magical illusions. There will be lots of audience participation as he fascinates you with his magic!
Limit of 80 tickets
Note: Children under the age of 11 must be accompanied by an adult to the program room for drop-off and pick-up for the safety of the child.
Age Group: 4-11 years
Admission: Free
Tickets will be handed out 15 minutes before the program starts in the Central Library south walkway.