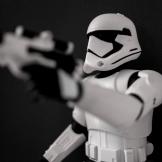 May the Fourth Be With You
Calling all Jedi Warriors, Rebels, and Starship Pilots!
Star Wars Day is held annually on May 4th. This date was picked due to the pun "May the Fourth Be With You" instead of the traditional catchphrase "May the Force Be With You". The first organized celebration of Star Wars Day actually took place in 2011 in Toronto of all places. It was not until 2013 that The Walt Disney Company officially observed the holiday and has been celebrating annually ever since then.
RHPL Has You Covered!
Enjoy being the hero of your own Star Wars adventure with our digital escape room. You can play anytime you like – either by yourself or with your friends and family online. See if you have what it takes to escape from Star Killer Base by accessing the room here.
You can even put your knowledge of the movie franchise to the test with our Kahoot trivia challenge. Complete this 30-question game here. Once you play, send it to your friends and compare scores to see who is the Star Wars expert!
Virtual Viewing Parties
Many people usually embrace the holiday with viewing parties for the movies with their own DVD or Bluray copies of the films. However, since the movies are now available on the Disney+ streaming service and people are staying home due to quarantine, virtual viewing parties have popped up across the Internet. You can even arrange your own with your friends and family using Facetime or Google Meet.
Bring the Star Wars Convention to You
The Emerald City Comic Con is even having multiple activities throughout the day including streaming parties online, live tweet events, and even a children's book reading with the 501st Legion (the famous fan Stormtrooper group). You can see a full list of the activities and links to them here.
Crafts from a Galaxy Far, Far Away
Watch Brooke make a watercolour resistance Death Star and show you how to make your own at home.
All you need is some cardstock, a toilet paper roll core, and a few tools to make an adorable Baby Yoda. Access the instructions here.
Grab some smooth oval rocks from outside and a little bit of paint to make your own Porg rocks! The official Star Wars website shows you how to design these cute creatures and even features a video reading of the children's book Chewie and the Porgs by Kevin Shinick. Check out these activities here.
Fabulous Foods for Star Wars Fans
Bring the Star Wars magic to your kitchen with fun recipes or even simple designs to make regular food look like it's out of this world.
Turn cucumbers into Yoda head shapes like this.
Create a wide range of snacks and nibbles for your viewing party with the help of recipes and ideas featured here.
Don't forget the drinks to go along with your food! Check out tasty and fun Star Wars drink recipes for kids here.
Want more? See themed days by our staff on our Daily Adventures page. ​