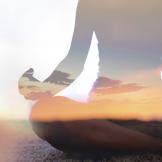 Meditation Yoga
Zoom programs
On the 4. and 4. Saturday each month at 12:00, and also on: 19.06.2021, 17.07.2021, 06.11.2021, 04.12.2021, but not on: 26.06.2021, 24.07.2021
SERVICE UPDATE: August 28 and September 25 sessions have been cancelled. We apologize for any inconvenience this may cause.
Ages: Adults
Relax and de-stress with meditation techniques and tension-relieving stretches. Join Deborah Ferreira from Meditation Toronto for this virtual program
This program will be done through Zoom, a free video conferencing software for tablets, smartphones and computers. Access instructions will be sent to those who register.
Registration for October 23 & November 6 & December 4 sessions: Register