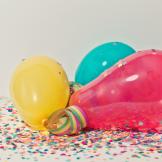 National Doughnut Day
Taking place every June 5th, National Doughnut Day is a time to celebrate our collective love for the best fried dough on the planet. The holiday is held on the first Friday in June each year. The date happens to coincide with a doughnut event fundraiser in 1938 by Chicago's Salvation Army. The fundraiser was meant to support the needy and honour the Salvation Army volunteers who donated their time to handout doughnuts to World War I soldiers. Originally, the day was just meant to be an American holiday. Canada couldn't be left out of the action though, and seven years ago Doughnut Day was imported here!
Get Those Doughnuts!
If you can't get out for doughnuts, they are pretty easy to make at home. Here are some of our favourite doughnut recipes so that you and your family can make your own:
12 Must-Try Baked Doughnut Recipes
No Yeast Glazed Doughnut Recipe
Doughnut Craft and Game Time!
These fried dough treats aren't just fun to eat. They're also fun to craft with! Paper plates make amazing doughnuts since they automatically have a perfect round shape. A little bit of paint and glitter is all that is needed to turn paper into a delicious looking doughnut. Specific instructions for this craft can be found here. If you have any cardboard, you can also use cardboard to make sturdy doughnuts for a special ring-toss game. Learn how to make the game here. Doughnuts make very versatile Minute To Win It games too! Check out some fun options for doughnut-based Minute To Win It here.
Doughnut Reads!
RHPL's eBook catalogue has you covered if you want to celebrate Doughnut Day with a sweet read or two. Check out the ebook offerings here. Our favourites include Steven Universe Ultimate Dough Down by Rebecca Sugar and of course Stick Dog Tries to Take the Donuts by Tom Watson.​