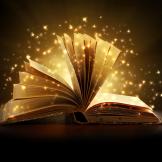 National Tell a Story Day
April 27 is National Tell a Story Day! So gather around with those in your house or friends and family online and let's tell stories!
Family Collaboration
Get everyone involved with a collaborative story. Start by writing or saying an open ended sentence and go around the room having each person add another sentence to the story. For example, you may begin with, "One sunny spring morning at …" The next person will complete the sentence and continue until they also create a sentence that will be completed by the next person. Continue around the room until you decide the story is finished.
Oral History Traditions
Traditions and stories have long been passed down by word of mouth. The history of generations was traditionally passed down through stories. Pick an event in your own history, whether at home or at school, and present it to your family. Find more information here.
Storytelling Jar
For this activity, adults or children can write story prompts on strips of paper and then select them from a jar. These simple story starters allow everyone to let their imaginations run wild while practicing oral storytelling skills.
Build a Story
This activity has everyone collect various items to make their own group story. One person uses an item to begin the story, then the next person incorporates their own item into the story, and the narrative continues to grow until everyone has included their item. Find more information here.
Create your own books to hold your stories
YMCA of Greater Toronto's Homemade Book Videos (video 1) (video 2)
Richmond Hill Public Library Resources
Richmond Hill Public Storytimes at Home are Monday to Friday at 10 am.
Want more? See themed days by our staff on our Daily Adventures page