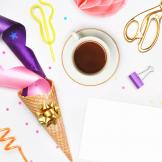 New Year's Craft Party
Get ready to celebrate! Make funky noise makers, decorate the ultimate party hat and count down the New Year with a dance party.
This program will be done through Zoom, a free video conferencing software for tablets, smartphones and computers. Access instructions will be sent to those who register.