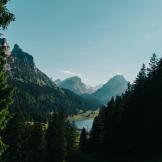 Paddle Your Canoe
Canoes are older than Canada itself, and paddling a canoe is a favourite pastime of many Canadians in the warmer months. Let's take a look at their history and how they work.
History of Canoeing in Canada
Travelling by canoe used to be a matter of necessity. Indigenous peoples designed and built various kinds of paddled watercrafts to navigate Canada's waterways. When European explorers came to North America, they adopted the lightweight birchbark canoes used by Indigenous peoples. For more information, take a look at this encyclopedia entry. To learn about the voyageurs, men who travelled in large canoes during the height of the fur trade, watch this film from the National Film Board.
Types of Canoes
There have been many different kinds of canoes built over the centuries. The Canadian Canoe Museum in Peterborough has a wonderful collection you can view online here.
Canoeing for Fun
Canoeing has become a recreational activity that people do when they're camping or visiting a lake. Learn some of the basic paddle strokes in this video from CBC Kids.
Did you know that canoeing is also an Olympic sport? Check out a canoe race in this video from the 2016 Summer Olympics.
Make Your Own Canoe
Use these great printables to create your very own miniature canoes. If you colour them very well with wax crayon, you can even float them in water!
Being Safe on the Water
It is always important to be safe when you're in a canoe or anywhere near water. The Red Cross has some great water safety videos and activities for kids (K-Grade 6) here.
Books About Canoeing
You will need a valid RHPL library card to access these titles.
Learn how to canoe in Canoeing by M.J. York on hoopla
Read along with this beautiful picture book, In the Red Canoe by Leslie A. Davidson on hoopla
Want more? See themed days by our staff on our Daily Adventures page.