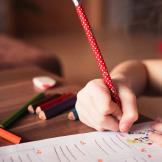 Penpals Project
Have you ever thought about being a penpal? Pen pals are long-distance friendships you maintain by writing letters to each other.
If you enjoy writing and connecting with other people, having a pen pal is a great way to support your language learning efforts. Crafting a letter to send to someone can help you learn new vocabulary, practice talking about specific themes, and improve your grammar. Developing these friendships can also create opportunities to travel to countries and experience life there as a local.
Finding a penpal 
Chances are you might even know someone already living in another country. Even someone who lives in a different city or province is interesting. You may want to ask for recommendations from your family members or teachers. You can sign up to be one via websites such as Global Penfriends or if you would like an opportunity to practice writing in another language, you can sign up via Conversation Exchange. If you'd prefer to be "penpal" as a group or a class, you can connect with other like minded groups via Students of the World or through PenPal Schools.
Finding something to write about
If this is your first letter, you may want to start by writing a short introduction about who you are, where you're from, and why you wanted a pen pal. You can then talk about your shared interests including anything topics that you feel you could bond over.  Don't forget to ask some questions about their life too to keep the conversation going and ensure your pal writes back to you. Finally to sign off, thank them for reading your letter, let them know where to contact you, and let them know you're looking forward to their response.
For kids who are too young to write, they can "send a hug" by tracing themselves onto paper and mailing it.
If you want a template or ideas to get you started, PenPal Project is a great site for mini projects and fun tips.
Want more? See themed days by our staff on our Daily Adventures page.