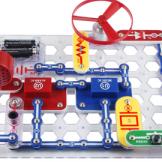 Pop Up MakerSpace for Kids
Central Library
Every week on Monday and Thursday at 16:00, but not on: 02.09.2019, 14.10.2019, 26.12.2019, 17.02.2020, 13.04.2020
Age: Children
The Pop Up STEAM MakerSpace for Kids is open on Mondays and Thursdays. 
Being a "Maker" is not necessarily new… However, emerging technologies have changed the way we "tinker". This technology trend is often called, The Maker Movement. MakerSpaces provide inquiry based learning opportunities by fostering a welcoming environment where kids can communicate, collaborate and get creative.
Drop in to see demos of a variety of emerging technologies, which may include: 3D printing, coding activities, robotics, and more.
This drop in program occurs in the Children's department
Note: Parental/caregiver supervision is required during this activity.